Dear Robert,
Our weekly Tuesday luncheon meetings are held at the 100th Bomb Group Restaurant, 20920 Brookpark Road, Cleveland, OH 44135. (across from the airport near NASA)

If you haven't made it to one of our meetings in a while, please try to join us!

Read more..
in this issue
Max & Ermas Fundraiser


We earned over $300, so thanks to everyone and to Max and Erma's! Mark Miller bought the first round of drinks during lunch which ran close to $100, so thank you Mark and we all owe you one.
Holiday Baskets Giving


We will be assessing each member $35 so that we can provide baskets of food for the local needy families. Should you know anyone who fits into this category, please call Dick Robinson at 777-3788.
$$$ Happy Bucks $$$


Our HAPPY BUCKS Campaign has so far generated $720.
We need to reach $1,000 by New Years Eve if we are to receive the $1,000 matching funds!
Purchase your Gift Certificates


Please try to participate in this as it could generate some good revenue for us.
Gift cards make excellent Christmas gifts.
Dictionary Project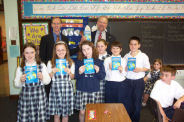 The dictionaries have been ordered & we should be able to give them out by Christmas.
Every child attending 4th grade in Fairview Park schools will be given one courtesy of our Rotary Club!
Holiday Party and Auction Fundraiser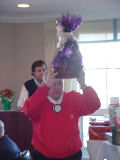 December 3,2006
HOLIDAY PARTY & AUCTION - Rockcliffe, 2589 Wooster Rd. near Hilliard Rd. Cocktails will start at 5:30, appetizers will be served, with dinner starting at 7:00. The cost will be $35 per person with your choice of Filet Mignon, Pork Chops, or Chicken Piccata.

The "Rotary Choral Singers" will be in good tune. Every one is asked to donate a $20.00 gift to be auctioned off (booze always works for me) gifts should go to Joe Kazimer, Dick Robinson, or George Newman.
Holiday Wreath Sale


Annual Rotary Holiday Wreath Sale has Begun !

HOLIDAY WREATHS for ONLY $20.00

Fresh and natural wreaths, 21 incehs across with cones and red bow.
Beautiful indoors or out.

Wreaths provided by PURITAS NURSERY

ORDER & PAYMENT DEADLINE IS DECEMBER 4th !


Calendar of Events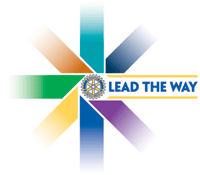 2006-2007 Officers

President
Steve Fitz

President Elect
George Newman

Treasurer
Dick Robinson

Secretary
George Newman

Sergeant-At-Arms
Joe Kazimer

Past President
George Newman






Calendar of Events


11/12/06
Brown's Tailgate Party - Richard Dunson's place at 12:30 PM-kickoff is at 1:00 PM. Brown's play Atlanta.

11/14/06
Club Meeting - Speaker will be Tom Gaghan, Exec. Dir. Of the Used Furniture Charity which provides furniture to 63 local Charities.

11/21/06:
Club Meeting - Rotary Wine Tasting thanks to our newest member, Phil Choban, who set this up. Mike Sarro, European Wines Inc., will discuss how to choose French Wines at inexpensive prices. Is Mad Dog 20/20 a French Wine? (Maued Daug in French)

11/28/06
Club Meeting - New member, Sharon Mack, will speak about health & skin care products from Arbonne. She will donate 20% of anything we buy that day to the club. Bring your spouse to this meeting!

12/3/06
CHRISTMAS PARTY & AUCTION - See featured article for Details.

12/5/06
Club Meeting followed by Board Meeting.

12/12/06
Club Meeting - Call Jim Corrigan to book a program speaker. 440-567-8779.

12/19/06
Club Meeting to be held at Richard Dunson's house. The traveling Rotary Bar will be there, Stancato's to cater. The usual cost of $13.00 will apply

12/31/06
I, George Newman's annual New Years Eve Party. Everyone is invited. Starts after 8:30 & usually runs till Sarah Marie goes home. The address is 22515 Bard Ave. off W.227 St. in Fairview Park.

There will be no meetings on 12/26/06 & ON 1/2/07.
Meetings will began again on Tuesday, 1/9/07